Joy Nunieh has been in the news recently for coming out with strong allegations against Godswill Akpabio and this has led to many Nigerians fearing for her life due to the power wielded by Akpabio and his cohorts.
River State Governor Nyesom Ezenwo Wike rescues Joy Nunieh from armed policemen who falsely imprisoned her at her Port Harcourt home on Thursday morning.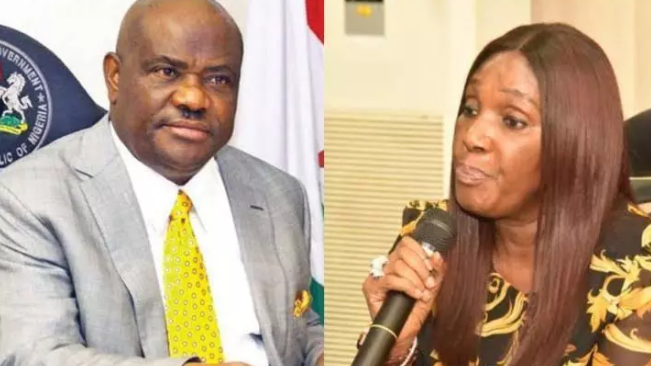 Reports came in today of how akpabio used his influence to try and get Joy Nunieh arrested by 15 heavily armed police men. But as fate would have it, the ever strong Governor Nyesom Wike came to her rescue by sending his able bodied men to fetch her even before the policed men get there.
Rivers Police Public Relations Officer (PPRO), Nnamdi Omoni, promised to get back with details but later failed to do so.
Nunieh said over 15 policemen surrounded the house and questioned their motive since she said they had no warrant to arrest her.
The woman, however, contended that the move was to stop her from appearing before the committee, adding that she was determined to defend herself any other day.
The ex-MD said she was not scared of her life noting, nobody had the capacity to take the life they did not give to her.
She disclosed Wike was under pressure to recant a statement he made concerning her security but insisted the Governor insisted it was the position of the Government.
She said: "I decided to come out and defend myself because Akpabio went to the National Assembly and tried to put some of the money on me. The people at the gate are all armed. They are policemen. They didn't provide any warrant of arrest. They banged at my gate but nobody opened the gate.
"They pushed the gate but I don't know how it opened up. They are not inside the house. This is our country. I am not afraid. I will stand up for it and I will still go before the National Assembly no matter how long it takes. Stopping me today doesn't mean anything. It is a sacrifice I have to pay so that this country will be better.
With the manner in which Gov. Wike is standing up for embattled politicians, should he run for presidency? Does he stand a chance?